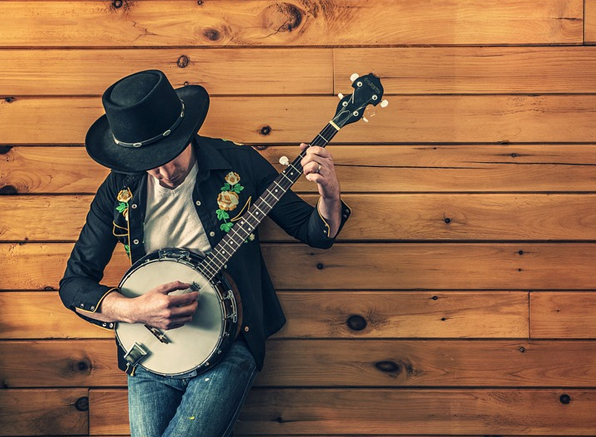 it's been a more than a decade and a half since Sub Pop's reissue of Michael Yonkers' blisteringly fuzzy *Microminiature Love* which was recorded in 1969. The albums released later prove that Microminiature Love's raving, avant-garage inclinations were merely a blip. Michael Yonkers at heart is a folkie. The choice to shift in a less dynamic direction was partly made for him by the 1971 factory accident and subsequent failed treatment that left him debilitated. But the Drag City reissues of two of his early-70s albums—the solo record Michael Lee Yonkers and the collaboration with his former bandmate Jim Woehrle titled Borders of My Mind prove just how much country and folk were part of Yonkers's characteristic artistic worldview.
As on Grimwood, his first post-Miniature Love album, MLY, and Borders were self-released in 1974. MLY was tracked in 1971 and 1972, and it continues with diminishing returns the lo-fi vibe he set in Grimwood, which was recorded in 1969. Awash in the kind of pulsating reverb that can only come from living-room walls, the record is a scarecrow-stark affair, a collection of acoustic lullabies topped with Yonkers's goatlike cowpoke vibrato. "His bowels were trembling," he hums crookedly on "My Sally". It seems more mishmosh than anything else. Yonkers's blow at a murder ballad, "I'm So Glad You Came", isn't uncanny enough to be piercing or funny enough to be ghastly, but instead dwells a holding pattern between lighthearted and halfhearted.
Borders fare considerably better. Recapturing some of Grimwood's quivering psychedelic headspace, it reunites Yonkers with Woehrle, who had been a member of The Michael Yonkers Band. Woehrle left the group just before the recording of Microminiature, but the alchemy between the two old buddies is gloriously odd. Relearning each other's cords as they go along, each half of the mates shares songwriting duties. The result is rife with beautifully ragged seams. With Yonkers on feathery guitar and Woehrle on shaky piano. But it's the grainy, eight-minute "Lovely Lady Companion" that most tenderly displays Borders' hushed camaraderie. "Please be with me when I reach the end," they sang together into a single microphone through which everything was being captured.
Playfully erratic, MLY and Borders help complete the description of Yonkers's the traditionalist, someone who plunged his toe into the chaotic 60s avant-garde before discerning he'd rather put away his fuzz boxes and make excellent with his guitar. These two albums have more gravity and edge than that. Yonkers, after all, has an off-center outlook that blends gaunt-eyed soulfulness with idiosyncratic perverseness. But neither fully seize the weird essence of the time, the place, or, the man behind them.